Our top tips for building an orangery to regulations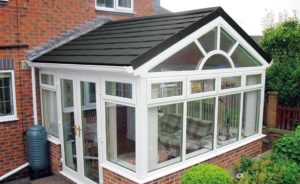 Opting to install an orangery onto your property is an exciting prospect. The perfect midpoint between glazed conservatory and full-scale home extension, they spoil homeowners with plenty of natural sunlight while retaining the warmth found within your main property. All this awaits those with an orangery, but what top tips are there to remove the Building Regulations boundaries that would otherwise stand in your way?
Ensure your orangery is separated from the house by external quality doors
Though it might seem like an odd, if not obvious factor to consider, a great way to render your proposed orangery exempt from requiring planning permission is to ensure that the two structures are adjoined by a quality entrance. Part of this is to ensure that both areas continue to perform to the required energy levels stated by established building regulations. This should be an automatic consideration anyway for those wanting to enjoy the best possible results.
Your orangery can't exceed over half of your main property's square footage.
A very important tip that could save homeowners a lot of trouble in the long run, it's always a wise choice to ensure your planned orangery does not exceed over half the width of your main property. While most of us would like the opportunity to enjoy the maximum amount of extra space possible, doing so while instantly mean that planning permission will be required.
This factor will almost always only affect those with a garden area or outdoor space that is particularly generous in size. Such an orangery can be successfully built while falling in line with enforced building regulations – just be prepared to go through a little more paperwork.
Don't opt for a road-facing orangery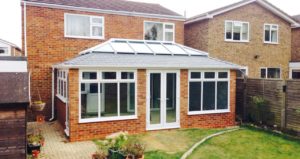 While admittedly very rare, orangeries intended to face the roadside will absolutely be required to undergo relevant planning permission processes. If possible, we at Evaroof would suggest avoiding this if you're hoping to enjoy some extended space sooner, perhaps considering a smaller structure to the side of your property as an alternative.
Advice to ease any onset of worry from the Evaroof team
If you're a homeowner considering a conservatory and are looking to learn even more about how building regulations and planning permission may affect you, why not read our other blog on the subject here? In the meantime, if you're looking for a tiled conservatory roof for your new or existing extended space, feel free to contact the team today via online message.
New solid tile roof in Monmouthshire
Just had a new roof put on the conservatory and the result is fantastic. What a difference - we now have a proper room which can be used all year round. Big thanks to Rich and the team who did a superb job in quick time. Would recommend them to anyone!
- Mr Dutton. Monmouthshire, Wales.
Premium Evaroof Installation in Swansea
Best thing we ever had done to our conservatory & can recommend Chris and his team , excellent job.
- Mrs McManus. Swansea, Wales.
Would Highly Recommend Evaroof!
Being from a roofing/building background I was a bit dubious to go with a slate roof but it's made such a difference due to the insulation qualities. During the recent heatwave, we have been able to spend all day in the room now whereas before it would have been too hot. Excellent installation carried out by the fitting team with nothing being too much trouble, very clean workers. Would highly recommend Eva roof!
- Clyde Cartwright. Newport, Wales.
Conservatory Roof Replacement in Bath
Really pleased with our conservatory roof. Quick, efficient, helpful and friendly. Brilliant result. Transformed our conservatory and we are now in there constantly. Thank you!
- Mr Emmett. Bath, Somerset.
Serving South Wales & the South West
We can install any one of our Evaroof products anywhere in and around South Wales and the South West in areas such as Swansea, Swindon, Hereford and Devon. Being the only dedicated solid roof company operating in these areas, we'll deliver a prompt and first-class service every time.
Visit our Monmouthshire Showroom
We encourage anybody that requires either more information or some creative inspiration to visit our local showroom situated in the heart of Monmouthshire, Caldicot. Whether you'd like to gain a better insight into how the Evaroof can keep you comfortable like no other tiled roof can or wish to see colour options up close, feel free to visit and we'll be happy to help.
All work completed with a building control certificate and to the highest standard
We have 3 dedicated expert fitting teams serving South Wales and the South West
Evaroof solves the heat-loss & overheating issues that conservatory owners experience
We provide our quote and design service completely free with no strings attached
We use the latest high quality materials to ensure both performance and style
We have a 10 year guarantee as standard, with A 60 year life expectancy for tiles