Does a tiled roof conservatory need planning permission?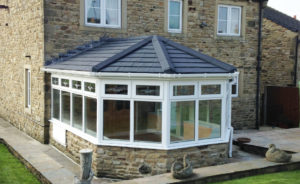 At Evaroof, part of our job as conservatory fitters is to help the installation process go as smoothly as possible, quickly turning around roof replacements so you can spend less time waiting and more time enjoying. One thing we get asked a lot is "does a tiled roof conservatory need planning permission?", and this is understandable considering the stresses that can ensue should if it indeed is required. To help ease this worry, we've put together a comprehensive answer.
It used to be, but no longer
Put simply, if you're a homeowner in the UK looking to swap out your glass or polycarbonate roof with a tiled replacement, this isn't a considered factor as far as planning permission is concerned. There are several elements to a conservatory can come in to play if you're hoping to avoid the need to enquire planning permission - opting for a solid top is not one of them.
Conservatories were previously required to have a certain percentage of their roofing be translucent for them to be exempt from planning permission, but changes to building regulations now means that this isn't the case. Since May 2013, solid roof conservatories can for the most part be constructed while avoiding the need for government approval, at least until this legislation is reviewed once again in May 2019.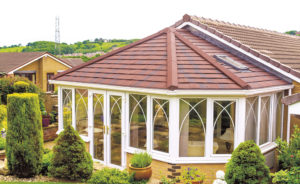 A few general factors to bear in mind:
Conservatory cannot extend to over half of the original house's floor surface area
No extension can exceed the height of the main property
Conservatory cannot incorporate verandas, balconies, or raised platforms
Extensions of more than one storey must not extend beyond the rear wall of the home
Side extensions can only have a maximum height of four metres
Always check with your installer
While all the information mentioned above should help homeowners avoid the pitfalls of planning permission, it's best to treat them as guidelines when planning your home extension. After all, every property is different, therefore making it hard for a 'one size fits all' solution for those looking to enjoy the benefits of a tiled conservatory roof.
Whether it's Evaroof or someone else entirely, we implore all prospective customers to consult their choice of installer, being the best way to stay informed about all the best processes to take.
High performance conservatory roof replacements from Evaroof
Hopefully that's helped alleviate much of the worry that can come when choosing to install a new tiled roof conservatory for your home. While homeowners simply swapping out their existing glass/polycarbonate roof for a tiled option have nothing to worry about, the Evaroof team are on hand to aid those starting from scratch.
For more information, call us today on 01291 630 063 or send us an online message.
New solid tile roof in Monmouthshire
Just had a new roof put on the conservatory and the result is fantastic. What a difference - we now have a proper room which can be used all year round. Big thanks to Rich and the team who did a superb job in quick time. Would recommend them to anyone!
- Mr Dutton. Monmouthshire, Wales.
Would Highly Recommend Evaroof!
Being from a roofing/building background I was a bit dubious to go with a slate roof but it's made such a difference due to the insulation qualities. During the recent heatwave, we have been able to spend all day in the room now whereas before it would have been too hot. Excellent installation carried out by the fitting team with nothing being too much trouble, very clean workers. Would highly recommend Eva roof!
- Clyde Cartwright. Newport, Wales.
Premium Evaroof Installation in Swansea
Best thing we ever had done to our conservatory & can recommend Chris and his team , excellent job.
- Mrs McManus. Swansea, Wales.
Conservatory Roof Replacement in Bath
Really pleased with our conservatory roof. Quick, efficient, helpful and friendly. Brilliant result. Transformed our conservatory and we are now in there constantly. Thank you!
- Mr Emmett. Bath, Somerset.
Serving South Wales & the South West
We can install any one of our Evaroof products anywhere in and around South Wales and the South West in areas such as Swansea, Swindon, Hereford and Devon. Being the only dedicated solid roof company operating in these areas, we'll deliver a prompt and first-class service every time.
Visit our Monmouthshire Showroom
We encourage anybody that requires either more information or some creative inspiration to visit our local showroom situated in the heart of Monmouthshire, Caldicot. Whether you'd like to gain a better insight into how the Evaroof can keep you comfortable like no other tiled roof can or wish to see colour options up close, feel free to visit and we'll be happy to help.
All work completed with a building control certificate and to the highest standard
We have 3 dedicated expert fitting teams serving South Wales and the South West
Evaroof solves the heat-loss & overheating issues that conservatory owners experience
We provide our quote and design service completely free with no strings attached
We use the latest high quality materials to ensure both performance and style
We have a 10 year guarantee as standard, with A 60 year life expectancy for tiles