Which conservatory roof is best?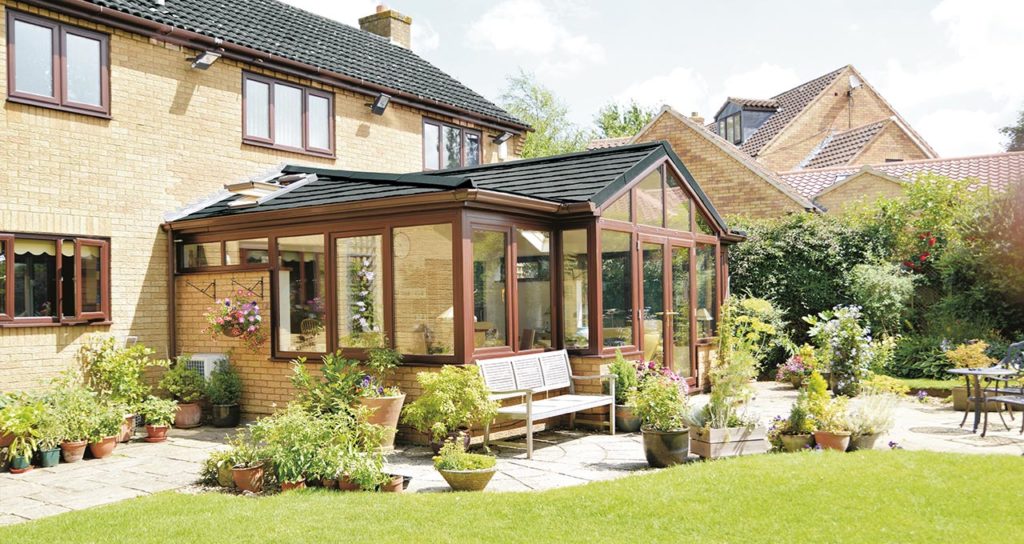 With so many options to take your fancy in today's conservatory roof replacement industry, we can completely understand how homeowners in the South West can get confused and frustrated attempting to decide on which conservatory roof is best for their home and their lifestyle. But don't despair! We're here to clearly explain which type of conservatory roof is best for you, your budget and your property.
Which conservatory roof is best?
There are 4 main types of conservatory roof currently available on the British renovation market; polycarbonate, glass, slate tiles and solid tile roofing. Which one is best for you? Let's explain!
Polycarbonate conservatory roof
Suits: Homeowners on a budget, who want a naturally lit conservatory.
Not suitable for: : Homeowners looking for decent insulation and soundproofing qualities.
Glass conservatory roof
Suits: Homeowners who want a crystal clear, naturally lit conservatory. Effective insulating & soundproofing qualities can be achieved by installing certain types of glass, e.g. double glazing.
Not suitable for: Homeowners with limited access, * as the roof can become difficult to clean, and homeowners who wish to avoid the glare & heat of the sun. *
*self-cleaning glass can be utilized here. * tinted glass can help here.
Slate conservatory roof
Suits: Homeowners looking for hard-wearing, impressive insulating qualities that will provide year-round protection.
Not suitable for: Homeowners on a budget, unstable/flimsy conservatory structures (due to the weight of the tiles) and those who want a naturally lit conservatory.
Solid tile conservatory roof
Suits: Most budgets and all types of property. Solid tiles also provide the best of both worlds, as you can opt to incorporate both glazed and tiled panels side by side and/or skylights.
At Evaroof we have 2 high-performance solid tiled conservatory roofs to choose from;
Evaroof Premium
Suits: Any size conservatory; homeowners looking for a year-round useable space, the ultimate weather protection via soffit detailing, comfortable temperature balance, 10-year guarantee & 60-year life expectancy.
Evaroof Eco
Suits: Homes with limited space, e.g. a lean-to conservatory. Homeowners on a budget looking for economical size and energy consumption qualities, comfortable temperature balance, 10-year guarantee & 60-year life expectancy.
Related to this post: How much could you save by having an Evaroof?
Not all conservatory roofs are constructed equally
To discuss solid tile conservatory roofing options further, including
orangery roofing
, contact us on 01291 630 063, v
isit our Monmouthshire Showroom
or
send us an online message
.
Related to this post: Supalite vs Guardian Roof - A comprehensive review
Cardiff Solid Tile Conservatory Roof Installation
Delighted with the work. I would like to thank you and your team for being so professional and easy to deal with . More than happy to recommend you anyway I can.
- Ms Walsh. Cardiff, Wales.
Conservatory Roof Replacement in Bath
Really pleased with our conservatory roof. Quick, efficient, helpful and friendly. Brilliant result. Transformed our conservatory and we are now in there constantly. Thank you!
- Mr Emmett. Bath, Somerset.
Would Highly Recommend Evaroof!
Being from a roofing/building background I was a bit dubious to go with a slate roof but it's made such a difference due to the insulation qualities. During the recent heatwave, we have been able to spend all day in the room now whereas before it would have been too hot. Excellent installation carried out by the fitting team with nothing being too much trouble, very clean workers. Would highly recommend Eva roof!
- Clyde Cartwright. Newport, Wales.
Premium Evaroof Installation in Swansea
Best thing we ever had done to our conservatory & can recommend Chris and his team , excellent job.
- Mrs McManus. Swansea, Wales.
Serving South Wales & the South West
We can install any one of our Evaroof products anywhere in and around South Wales and the South West in areas such as Swansea, Swindon, Hereford and Devon. Being the only dedicated solid roof company operating in these areas, we'll deliver a prompt and first-class service every time.
Visit our Monmouthshire Showroom
We encourage anybody that requires either more information or some creative inspiration to visit our local showroom situated in the heart of Monmouthshire, Caldicot. Whether you'd like to gain a better insight into how the Evaroof can keep you comfortable like no other tiled roof can or wish to see colour options up close, feel free to visit and we'll be happy to help.
All work completed with a building control certificate and to the highest standard
We have 3 dedicated expert fitting teams serving South Wales and the South West
Evaroof solves the heat-loss & overheating issues that conservatory owners experience
We provide our quote and design service completely free with no strings attached
We use the latest high quality materials to ensure both performance and style
We have a 10 year guarantee as standard, with A 60 year life expectancy for tiles