Tapco vs slate tiled roofs – Which one is better for your conservatory?
When the time comes to swap out your conservatory's existing roof for something a little more stylish and insulating, your first port of call should be what type of tile you'll settle upon. That is of course, if you are indeed considering a tiled conservatory roof much like the Evaroof. Even still there are a couple of options for your consideration, namely Tapco or slate. But which is better? To find out we've highlighted the best of both.
Tapco tiles – Insulating and lightweight
The preferred choice of tile for use within the Ecaroof system, Tapco is lightweight and emphasises the ability to keep extensions insulated 365 days a year. They're a multi-layered design that sees them work with PIR insulations boards underneath which means that a balanced temperature is an easy guarantee.
Aesthetically, Tapco tiles are also sleek and neat compared to the traditional looks sported by slate tiles. Available in a selection of classic finishes such as Ember, Charcoal, and Walnut, this allows them to suit both contemporary and classic extensions alike. Their high weather resistance assures that the established style will stay for many years to come, with Tapco balancing style and performance.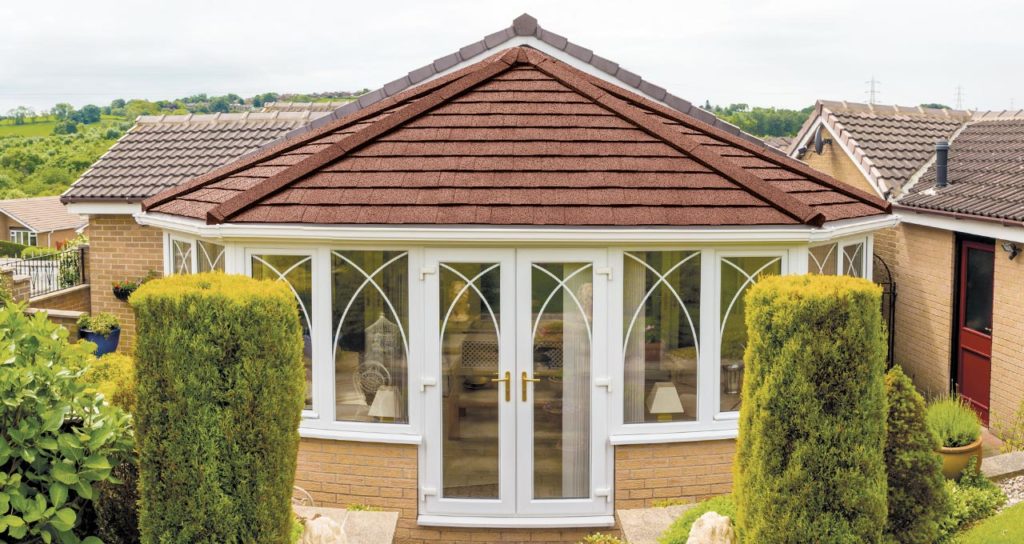 Benefits of Tapco tiles:
Fitted to be watertight
Resistance to rough weather elements like harsh rainfall.
High levels of thermal retention (U-Value of 0.18W/m2K)
Swiftly installed, just a few days.
Expert temperature balancing
Wide selection of finishes like Ember and Charcoal
Slate tiles - Traditional and hard-wearing
One of the country's most widely accepted conservatory roof tile options, traditional slates are formed using rock that's been placed under immense pressure. Due to this, while highly weather-resistant, slate tiles can be incredibly heavy when compared to the lightweight nature of our Evaroof system. If your home is relatively new, it might not be prepared to withstand the weight which averages between 800 and 1,500 pounds per square.
One area where slate tiles do excel is in how environmentally friendly they are. This is primarily because, as a highly recyclable product, they emit zero toxic substances when broken down. This doesn't sovle the factor that by comparison, British slates can still be quite costly, meaning that a price can come for putting your green foot forward. Not with Evaroof Tapco slates however!
Benefits of slate tiles:
High insulation thanks to dense structure
Resistance to rough weather elements like harsh rainfall
Choice of handmade or machine-made clay tiles
Wide range of natural colour finishes
Tapco tiled roofs – Practical, lightweight, durable!
Hopefully that's helped highly why, when pitted against each other, Tapco slates as the more contemporary options solve many of the issues that have continued to plague tiled roofs. Tapco slates are highly insulating, configurable, and transforms dilapidated extensions into revitalised living spaces. If you'd like to learn more, contact a member of the Evaroof team today.
Conservatory Roof Replacement in Bath
Really pleased with our conservatory roof. Quick, efficient, helpful and friendly. Brilliant result. Transformed our conservatory and we are now in there constantly. Thank you!
- Mr Emmett. Bath, Somerset.
Premium Evaroof Installation in Swansea
Best thing we ever had done to our conservatory & can recommend Chris and his team , excellent job.
- Mrs McManus. Swansea, Wales.
New solid tile roof in Monmouthshire
Just had a new roof put on the conservatory and the result is fantastic. What a difference - we now have a proper room which can be used all year round. Big thanks to Rich and the team who did a superb job in quick time. Would recommend them to anyone!
- Mr Dutton. Monmouthshire, Wales.
Cardiff Solid Tile Conservatory Roof Installation
Delighted with the work. I would like to thank you and your team for being so professional and easy to deal with . More than happy to recommend you anyway I can.
- Ms Walsh. Cardiff, Wales.
Serving South Wales & the South West
We can install any one of our Evaroof products anywhere in and around South Wales and the South West in areas such as Swansea, Swindon, Hereford and Devon. Being the only dedicated solid roof company operating in these areas, we'll deliver a prompt and first-class service every time.
Visit our Monmouthshire Showroom
We encourage anybody that requires either more information or some creative inspiration to visit our local showroom situated in the heart of Monmouthshire, Caldicot. Whether you'd like to gain a better insight into how the Evaroof can keep you comfortable like no other tiled roof can or wish to see colour options up close, feel free to visit and we'll be happy to help.
All work completed with a building control certificate and to the highest standard
We have 3 dedicated expert fitting teams serving South Wales and the South West
Evaroof solves the heat-loss & overheating issues that conservatory owners experience
We provide our quote and design service completely free with no strings attached
We use the latest high quality materials to ensure both performance and style
We have a 10 year guarantee as standard, with A 60 year life expectancy for tiles