How much could you save by having an Evaroof?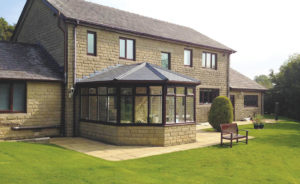 Improving a conservatory doesn't solely provide homeowners with the chance to overhaul their extension's style and design, but to save a few precious pennies too. Widely considered aa one of the most effective methods to reduce costs,
a multi-layered replacement system like Evaroof
trumps the insulation abilities of original polycarbonate roofs every time. Here are some of the reasons why Evaroofs can help save you money in the long-term.
Improved heat retention upon polycarbonate represents a wise investment
If you're conservatory is still sporting an original polycarbonate roof, it's highly likely you've found yourself frequently infuriated at the ever-present draughts, cold spots, and rattles. Luckily, when opting for an Evaroof, part of the reason they help keep costs low is due to their ability to fit weathertight. Such a meticulous attention to detail results in the very best thermal performance with U values as low as
0.19
.
0.19
is far below the current Building Regulation requirement, letting homeowners in England and Scotland comfortably enjoy their revitalised extended space without fear or worry. Once the initial replacement installation has been paid for, your home and conservatory can get to work recouping the costs and saving you money for the rest of its life, here's how.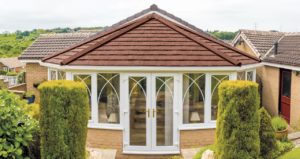 Multiple savings to be had on heating bills
If you hadn't already guessed, the primary reason why Evaroofs are able to save homeowners money is due to less reliance on artificial heating methods. Technologies like electric heaters and underfloor insulation all cost increasing amounts of money to keep running, but when retro-fitted with an Evaroof, your conservatory will be able to reduce glare and utilize the sunlight heat to keep the living environment comfortable. Heating bills will be reduced, and money successfully saved.
Effective temperature balancing all year round to manage costs
In addition to this, Evaroof systems can retain warmth in the winter months and keep cool throughout the summer, balancing temperatures all year round thanks to their dense and multi-layered makeup. Elements like waterproof ply, PIR insulation boards, and insulated plasterboard all work together to keep your conservatory roof lightweight and highly insulating no matter what the weather.
Save the pennies with a tiled roof replacement from Evaroof
So if you're suffering from an inadequate polycarbonate roof, do yourself a favour and revitalise the living space with a lightweight tiled
replacement from Evaroof
. For more information, call us on
01291630063
or
send us an online message
to receive an accurate quote.
Would Highly Recommend Evaroof!
Being from a roofing/building background I was a bit dubious to go with a slate roof but it's made such a difference due to the insulation qualities. During the recent heatwave, we have been able to spend all day in the room now whereas before it would have been too hot. Excellent installation carried out by the fitting team with nothing being too much trouble, very clean workers. Would highly recommend Eva roof!
- Clyde Cartwright. Newport, Wales.
Premium Evaroof Installation in Swansea
Best thing we ever had done to our conservatory & can recommend Chris and his team , excellent job.
- Mrs McManus. Swansea, Wales.
New solid tile roof in Monmouthshire
Just had a new roof put on the conservatory and the result is fantastic. What a difference - we now have a proper room which can be used all year round. Big thanks to Rich and the team who did a superb job in quick time. Would recommend them to anyone!
- Mr Dutton. Monmouthshire, Wales.
Cardiff Solid Tile Conservatory Roof Installation
Delighted with the work. I would like to thank you and your team for being so professional and easy to deal with . More than happy to recommend you anyway I can.
- Ms Walsh. Cardiff, Wales.
Serving South Wales & the South West
We can install any one of our Evaroof products anywhere in and around South Wales and the South West in areas such as Swansea, Swindon, Hereford and Devon. Being the only dedicated solid roof company operating in these areas, we'll deliver a prompt and first-class service every time.
Visit our Monmouthshire Showroom
We encourage anybody that requires either more information or some creative inspiration to visit our local showroom situated in the heart of Monmouthshire, Caldicot. Whether you'd like to gain a better insight into how the Evaroof can keep you comfortable like no other tiled roof can or wish to see colour options up close, feel free to visit and we'll be happy to help.
All work completed with a building control certificate and to the highest standard
We have 3 dedicated expert fitting teams serving South Wales and the South West
Evaroof solves the heat-loss & overheating issues that conservatory owners experience
We provide our quote and design service completely free with no strings attached
We use the latest high quality materials to ensure both performance and style
We have a 10 year guarantee as standard, with A 60 year life expectancy for tiles