6 benefits to upgrading your conservatory roof to a tiled one
Here at Evaroof, we're on a mission to help UK homeowners make the most of their extended living spaces. Sometimes this means offering technical roofing advice or guiding residents of how top best go about abiding by British Building Regulations, but more often than not, it's by overhauling their conservatory's existing lid with an attractive and high-performing tiled conservatory roof replacement.
What are the benefits that come in doing so? Let's find out:
1. Improved insulation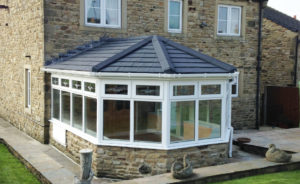 Perhaps the most substantial improvement to be made over most glass and polycarbonate roofs, a new tiled conservatory roof from the Evaroof team ups the insulation and makes for a more comfortable environment. Heat rises by its very nature, and so it pays to prevent this from escaping. Our multi-layered tiled solutions trap any warmth naturally generated in the space, meaning that you'll be able to use the space 365 days a year rather than just the Spring or Summer.
2. Attractive style
Unlike fully glazed and plastic conservatory roofs, with a new tiled conservatory roof from our team homeowners are given greater aesthetic choice thanks to the various shades available. From classic tones like Ember, Charcoal, and Walnut to more distinct colours like Pewter Grey, every tile type can be installed is stylish but understated for a look that's always in-keeping with any established character.
3. Low-maintenance
Perfectly tying into the busy lifestyles of most modern homeowners, every tiled conservatory roof we install will never demand vast amounts of looking after, thanks to the integration of low-maintenance tiles. Your roof will continue looking good well into the future, fending off even the harshest of rainfall for a predicted period of 40 years.
4. Reduced energy bills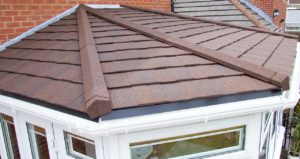 Because your conservatory will suddenly be more energy efficient when compared to before, with a new tiled conservatory roof you'll be able to reduce bills. A more insulated space that retains heat is a much warmer space, meaning homeowners won't need to rely on artificial heating methods of much. You'll be saving money following your initial investment almost instantly.
5. More affordable than a new conservatory
Though you might think that a roof replacement won't have much use in revitalising run-down conservatories, the Evaroof is here to prove otherwise. What's more, its effects and benefits can be felt almost immediately following installation, being a prompt upgrade as opposed to a full-scale erection of a new structure. Simply put, it's less costly to improve than remove.
6. Swift turnaround times
Our team won't leave you waiting around with a new tiled conservatory roof. Compared to the time it takes to construct your typical uPVC or aluminium extended space, it's much quicker and simpler to lift the lid on what is already there. All our tiled roofs can be fitted within a matter of days rather than weeks, letting you sit back, relax, and enjoy the benefits they bring a lot sooner.
Make the most of extra living space with a tiled conservatory roof
There's no need to settle for anything less than the best when it comes to conservatories, and a tiled roof replacement can be a primary method of ensuring so. For more information as to why outside of the 6 reasons already listed, contact Evaroof today on 01291630063 or send us an online message.
Would Highly Recommend Evaroof!
Being from a roofing/building background I was a bit dubious to go with a slate roof but it's made such a difference due to the insulation qualities. During the recent heatwave, we have been able to spend all day in the room now whereas before it would have been too hot. Excellent installation carried out by the fitting team with nothing being too much trouble, very clean workers. Would highly recommend Eva roof!
- Clyde Cartwright. Newport, Wales.
Conservatory Roof Replacement in Bath
Really pleased with our conservatory roof. Quick, efficient, helpful and friendly. Brilliant result. Transformed our conservatory and we are now in there constantly. Thank you!
- Mr Emmett. Bath, Somerset.
Cardiff Solid Tile Conservatory Roof Installation
Delighted with the work. I would like to thank you and your team for being so professional and easy to deal with . More than happy to recommend you anyway I can.
- Ms Walsh. Cardiff, Wales.
New solid tile roof in Monmouthshire
Just had a new roof put on the conservatory and the result is fantastic. What a difference - we now have a proper room which can be used all year round. Big thanks to Rich and the team who did a superb job in quick time. Would recommend them to anyone!
- Mr Dutton. Monmouthshire, Wales.
Serving South Wales & the South West
We can install any one of our Evaroof products anywhere in and around South Wales and the South West in areas such as Swansea, Swindon, Hereford and Devon. Being the only dedicated solid roof company operating in these areas, we'll deliver a prompt and first-class service every time.
Visit our Monmouthshire Showroom
We encourage anybody that requires either more information or some creative inspiration to visit our local showroom situated in the heart of Monmouthshire, Caldicot. Whether you'd like to gain a better insight into how the Evaroof can keep you comfortable like no other tiled roof can or wish to see colour options up close, feel free to visit and we'll be happy to help.
All work completed with a building control certificate and to the highest standard
We have 3 dedicated expert fitting teams serving South Wales and the South West
Evaroof solves the heat-loss & overheating issues that conservatory owners experience
We provide our quote and design service completely free with no strings attached
We use the latest high quality materials to ensure both performance and style
We have a 10 year guarantee as standard, with A 60 year life expectancy for tiles