"Help! My roof is sagging." – The top 3 most likely causes.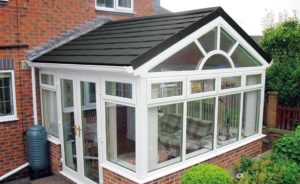 Conservatories are known for their ability to be a place in which to kick back, relax, and remove yourself from the stresses that the modern world can sometimes bring. Sadly, this will no longer be the case as soon as your existing conservatory roof starts to sag, being a major cause for concern for both you and your property's well-being.
Of course, diagnosing the problem as soon as possible is the best action to take, so we at Evaroof thought we'd run through the 3 most likely causes.
Slipped roof panels or tiles
When your tiled roof is initially installed, any reliable and trustworthy tradesmen will ensure that every panel comes fitted to be watertight so as to never allow for the risk of damp. It could be that if your roof is sagging, this is no longer the case due to possible tiles that have slipped, thus providing entryways that is now letting any unfiltered water pass through. Your roof won't be able to take the weight and it will most likely start to sag.
If this is indeed the issue, fixing slipped roof panels is a simple case of sliding them back into place, replacing any broken or missing end caps to prevent this from happening again in the future. This is a fairly effortless process providing you are careful not to cause any further damage. But if in doubt, seek the help of a professional.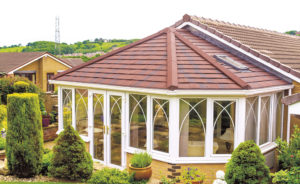 Leaking roof vents
The idea behind conservatory roof vents is to provide better insulation as any generated heat naturally rises. This heat is in turn filtered by the vents, resulting in a better all-round environment to experience and be in. They successfully circulate air and prevent the likely build-up of condensation, but can sometimes leak if poorly installed.
Repairing leaky roof vents is a process that requires the units to be removed from the roof, stripped down and given a thorough clean before re-assembling. Should you fit this back onto the conservatory roof and it continues to cause sagging, contact a reliable installer like those that make up the Evaroof team.
Faulty lead flashing
'Lead flashing' is the term given to the outer coating which covers the joints between the conservatory and the household. As well as an insulator that helps to reduce energy consumption, lead flashing has been proven to aid in soundproofing, making in a must for any conservatory that wants to stay comfortable.
Though the substance is highly resistant to corrosion, leaks can occur in between the joints that are present between home and conservatory. If enough water seeps through, sagging will eventually pose a problem, so it's important to get in there and seal the gaps as quickly as possible.
Enjoy a roof that lasts with Evaroof
As well as these 3 causes in particular, roof sagging can arise for a multitude of reasons. The key to avoiding such problems however is to ensure that when swapping out your roof for a high-performance replacement, you get it done by a team of professionals. To learn more about what makes Evaroof ideal for the job, contact us today either via online message or call 01291 630 063.
Would Highly Recommend Evaroof!
Being from a roofing/building background I was a bit dubious to go with a slate roof but it's made such a difference due to the insulation qualities. During the recent heatwave, we have been able to spend all day in the room now whereas before it would have been too hot. Excellent installation carried out by the fitting team with nothing being too much trouble, very clean workers. Would highly recommend Eva roof!
- Clyde Cartwright. Newport, Wales.
Conservatory Roof Replacement in Bath
Really pleased with our conservatory roof. Quick, efficient, helpful and friendly. Brilliant result. Transformed our conservatory and we are now in there constantly. Thank you!
- Mr Emmett. Bath, Somerset.
Cardiff Solid Tile Conservatory Roof Installation
Delighted with the work. I would like to thank you and your team for being so professional and easy to deal with . More than happy to recommend you anyway I can.
- Ms Walsh. Cardiff, Wales.
Premium Evaroof Installation in Swansea
Best thing we ever had done to our conservatory & can recommend Chris and his team , excellent job.
- Mrs McManus. Swansea, Wales.
Serving South Wales & the South West
We can install any one of our Evaroof products anywhere in and around South Wales and the South West in areas such as Swansea, Swindon, Hereford and Devon. Being the only dedicated solid roof company operating in these areas, we'll deliver a prompt and first-class service every time.
Visit our Monmouthshire Showroom
We encourage anybody that requires either more information or some creative inspiration to visit our local showroom situated in the heart of Monmouthshire, Caldicot. Whether you'd like to gain a better insight into how the Evaroof can keep you comfortable like no other tiled roof can or wish to see colour options up close, feel free to visit and we'll be happy to help.
All work completed with a building control certificate and to the highest standard
We have 3 dedicated expert fitting teams serving South Wales and the South West
Evaroof solves the heat-loss & overheating issues that conservatory owners experience
We provide our quote and design service completely free with no strings attached
We use the latest high quality materials to ensure both performance and style
We have a 10 year guarantee as standard, with A 60 year life expectancy for tiles