Three causes of roof leaks and how to avoid them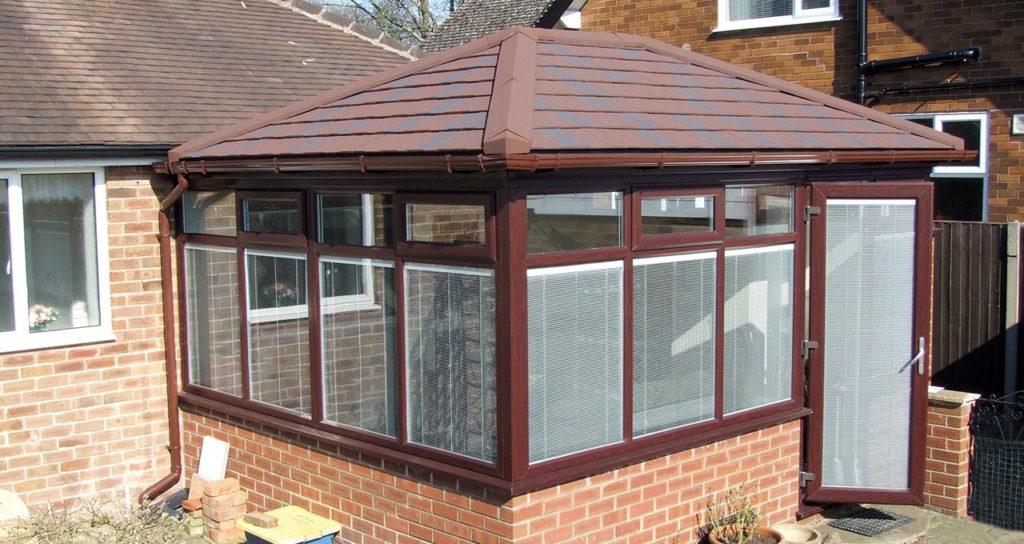 Conservatories are meant to be an area where one can relax, leave their worries behind, and just generally bask in the comfort of their personal space. Unfortunately, doing so can be extremely tricky the moment your extension's roof starts leaking. Thankfully, experiencing a leak with a newly installed Evaroof replacement is near impossible. Here's why your other roof might be suffering from those annoying leaks.
Excess moisture
It shouldn't come as too much of a surprise to learn that any kind of water damage, leaks or otherwise, comes as a result of excess moisture build-up. This is something guttering can help with on a standard property's roof, but filtering so much water isn't typically something traditional polycarbonate conservatory roofs are good at.
Thankfully, Evaroofs are well equipped to prevent the risk of excess moisture thanks to a full range of matching fascias, guttering, and soffits boards. It's the soffit boards, which actively fights against moisture, neatly tucking away under the fascia boards to better allow your conservatory's roof to stay ventilated to prevent the risk of damp build-up. Condensation, let alone roof leaks, will be a thing of the past.
Debris
Though you'd might not think it, roofs of any kind have a tendency to fall victim to the odd amount of debris year on year. Nothing huge by any means. Most of the time the debris your conservatory roof will accumulate can consist of anything from twigs and sticks to heavy amounts of leaves and pine needles. Only on rare occasion can such debris dislodge tiles to such an extent that leaks occur, but it's a possibility nonetheless.
Obviously, if your conservatory sits under a tree there's only a few steps you can take. Trimming any overhanging tree branches is a good start, but if it keeps happening your only option is to replace the existing roof for a more defensive solution to avoid leaks. Evaroofs are always fitted to be airtight to the conservatory's frame, sometimes retro-fitted onto existing structures. Tapco slates in particular have a lot of weatherproofing properties with a lifetime guarantee as standard.
Old age
If you've been enjoying your conservatory for 20 years or more now, it's highly likely that certain materials originally used to construct it has started to deteriorate over time. This is natural considering how cheaply and swiftly they used to be installed considering the 1980s boom, just don't be surprised if the odd draught, cold spot, and eventual leak starts to occur. Evaroofs have a life expectancy of 50 years, letting homeowners enjoy a leak-free conservatory well into retirement years.
Avoid the dangers of water damage with an Evaroof
Needless to say, the best route to take when wanting to avoid any of these issues is to consider a high-performance conservatory roof replacement from the Evaroof team. With it's incredibly long lifespan and additional defensive properties, homeowners can enjoy a leak-free space for many years to come. To learn more, contact us today.
Would Highly Recommend Evaroof!
Being from a roofing/building background I was a bit dubious to go with a slate roof but it's made such a difference due to the insulation qualities. During the recent heatwave, we have been able to spend all day in the room now whereas before it would have been too hot. Excellent installation carried out by the fitting team with nothing being too much trouble, very clean workers. Would highly recommend Eva roof!
- Clyde Cartwright. Newport, Wales.
Conservatory Roof Replacement in Bath
Really pleased with our conservatory roof. Quick, efficient, helpful and friendly. Brilliant result. Transformed our conservatory and we are now in there constantly. Thank you!
- Mr Emmett. Bath, Somerset.
Cardiff Solid Tile Conservatory Roof Installation
Delighted with the work. I would like to thank you and your team for being so professional and easy to deal with . More than happy to recommend you anyway I can.
- Ms Walsh. Cardiff, Wales.
New solid tile roof in Monmouthshire
Just had a new roof put on the conservatory and the result is fantastic. What a difference - we now have a proper room which can be used all year round. Big thanks to Rich and the team who did a superb job in quick time. Would recommend them to anyone!
- Mr Dutton. Monmouthshire, Wales.
Serving South Wales & the South West
We can install any one of our Evaroof products anywhere in and around South Wales and the South West in areas such as Swansea, Swindon, Hereford and Devon. Being the only dedicated solid roof company operating in these areas, we'll deliver a prompt and first-class service every time.
Visit our Monmouthshire Showroom
We encourage anybody that requires either more information or some creative inspiration to visit our local showroom situated in the heart of Monmouthshire, Caldicot. Whether you'd like to gain a better insight into how the Evaroof can keep you comfortable like no other tiled roof can or wish to see colour options up close, feel free to visit and we'll be happy to help.
All work completed with a building control certificate and to the highest standard
We have 3 dedicated expert fitting teams serving South Wales and the South West
Evaroof solves the heat-loss & overheating issues that conservatory owners experience
We provide our quote and design service completely free with no strings attached
We use the latest high quality materials to ensure both performance and style
We have a 10 year guarantee as standard, with A 60 year life expectancy for tiles