Should you fix or replace your conservatory roof if you find a leak?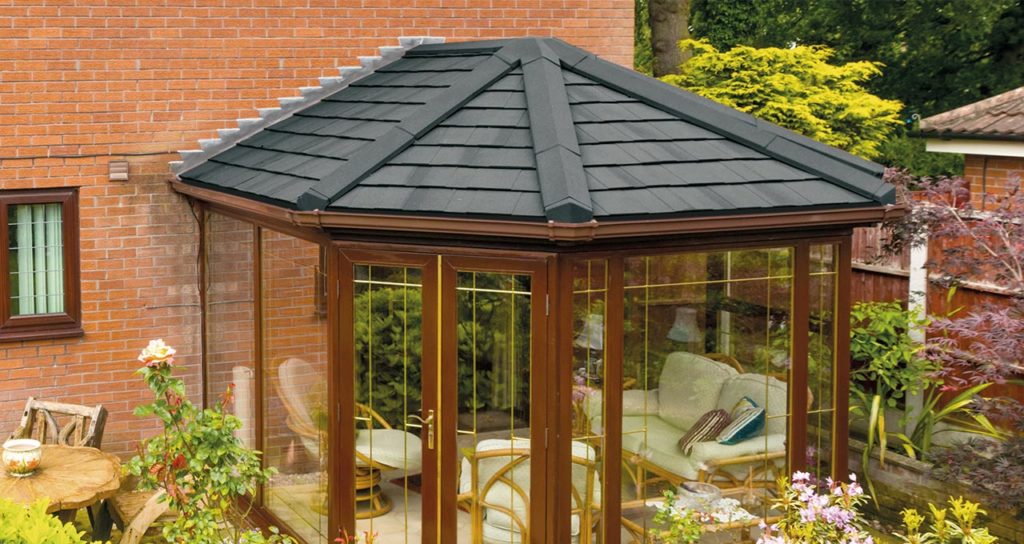 Conservatories installed throughout the 1970s and 80s were understandably not expected to last indefinitely. Thankfully Evaroof and other specialists in the industry continually strive to find ways to assure this is not the case, namely using high-performance roof replacements. Tactics such as this allow homeowners to enjoy the very best comfort in their living space, often being much more effective than the alternative: conservatory roof repairs.
If you're a homeowner currently experiencing a leak within your existing conservatory or orangery, Evaroofs hold the potential to completely reinvent and futureproof the space. Stamping out rattles, draughts, and of course leaks for good, your lifestyle will be improved substantially.
Highly insulating replacements when conservatory roof repairs can't cut it
First things first, when thinking about upgrading your conservatory with an Evaroof from our range, it's essential to consider it a long-term investment. Compared to conventional conservatory roof repairs such as patching, the Evaroof is a more premium product but is a more reliable and permanent solution than slightly cheaper and risky ventures. Our team are meticulous with conservatory roof upgrades, ensuring a snug fit every time.
Evaroofs are able to achieve such high levels of energy efficiency and thermal retention, thanks in part to their multi-layered design. Constructed using a combination of structural waterproof ply, insulated plasterboards, and utterly attractive lightweight tiles, the heat that would usually travel upwards and escape is more effectively trapped within. The result? A more comfortable extended living space completely free of leaks.
Transforming occasional summer rooms into year-round spaces
Once fitted, you'll notice the difference almost immediately. A far cry from the dilapidated area most polycarbonate roofs are known for creating, an Evaroof upgrade will stay at a welcoming temperature 365 days a year rather than just the Spring or Summer. The turnaround time on our roof replacements are equal to that of lesser conservatory roof repairs too, and twice as effective at achieving the very best results.
Make your next conservatory roof an EvaRoof
With so many subtle features and aesthetic styles, almost every type of conservatory can enjoy a leak-free extended lifespan with an Evaroof. For more information on if it's time for your existing conservatory/orangery to benefit, contact the Evaroof team either via 01291630063 or send us an online message.
Premium Evaroof Installation in Swansea
Best thing we ever had done to our conservatory & can recommend Chris and his team , excellent job.
- Mrs McManus. Swansea, Wales.
Would Highly Recommend Evaroof!
Being from a roofing/building background I was a bit dubious to go with a slate roof but it's made such a difference due to the insulation qualities. During the recent heatwave, we have been able to spend all day in the room now whereas before it would have been too hot. Excellent installation carried out by the fitting team with nothing being too much trouble, very clean workers. Would highly recommend Eva roof!
- Clyde Cartwright. Newport, Wales.
Conservatory Roof Replacement in Bath
Really pleased with our conservatory roof. Quick, efficient, helpful and friendly. Brilliant result. Transformed our conservatory and we are now in there constantly. Thank you!
- Mr Emmett. Bath, Somerset.
New solid tile roof in Monmouthshire
Just had a new roof put on the conservatory and the result is fantastic. What a difference - we now have a proper room which can be used all year round. Big thanks to Rich and the team who did a superb job in quick time. Would recommend them to anyone!
- Mr Dutton. Monmouthshire, Wales.
Serving South Wales & the South West
We can install any one of our Evaroof products anywhere in and around South Wales and the South West in areas such as Swansea, Swindon, Hereford and Devon. Being the only dedicated solid roof company operating in these areas, we'll deliver a prompt and first-class service every time.
Visit our Monmouthshire Showroom
We encourage anybody that requires either more information or some creative inspiration to visit our local showroom situated in the heart of Monmouthshire, Caldicot. Whether you'd like to gain a better insight into how the Evaroof can keep you comfortable like no other tiled roof can or wish to see colour options up close, feel free to visit and we'll be happy to help.
All work completed with a building control certificate and to the highest standard
We have 3 dedicated expert fitting teams serving South Wales and the South West
Evaroof solves the heat-loss & overheating issues that conservatory owners experience
We provide our quote and design service completely free with no strings attached
We use the latest high quality materials to ensure both performance and style
We have a 10 year guarantee as standard, with A 60 year life expectancy for tiles