Roof tiles vs slate – which one do you need?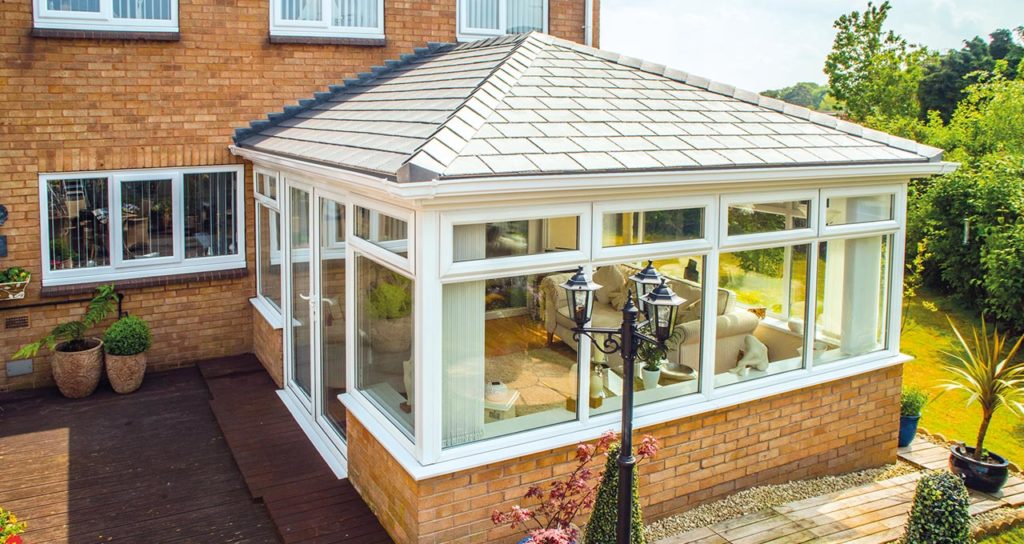 Back in the day, it used to be that all the home improvement decisions concerning material, style, and colour were made for us. In 2017 however, homeowners are lucky enough to experience more choice than ever, and this includes the type of extension roof replacement to select for your conservatory or orangery.
Roof slates or roof tiles? We're here to help do the math!
In today's market, homeowners are faced with two distinct choices of solid replacement roof assembly: Slates and tiles. Both do an excellent job at futureproofing your extended living space from water leaks and weather damage that might occur as a result of harsh weather conditions, but they're wildly different. To help separate the fact from fiction and see homeowners make the right decision, we've highlighted the differences and advantages of each.
Tiled conservatory roofs (Evaroofs)
Very much the bread and butter here at Evaroof, every Evaroof variant – be it Premium, Eco, or Orangery – comes engineered using super light roof tiles. Created using either clay or concrete, they offer a lot of colour variety to better suit most contemporary properties, and are surprisingly quick to install. U values as low as 0.18 are readily achievable, being an expert solution to insulate the space.
Because they are lighter and more durable when compared to slates, homeowners hoping to make the most of light or ventilation can rest easy knowing that roof vents are easier to integrate into the design. The Atmosphere will appear brighter and moods enhanced, within a solid roof system that requires virtually no maintenance to stay looking good and performing well.
7 times lighter than conventional roofing options
Proved to withstand harsh rainfall and weather
EvaRoof tiled roofs guaranteed up to 40 years
Available in 3 attractive finishes
U Values as low 0.18 for high energy efficiency
Exceedingly low maintenance and quick to install
Slate conservatory roofs
The most popular choice for upscale homes in the UK, roof slates are notable for their high fire protection qualities, generous lifespan, and resistance to rot and insect damage. The more traditional option of the two, they can be costlier due to how suited to period homes they are, and are substantially heavier when compared to roof tiles. Providing your home extension can accommodate the weight, roof slates are a solid and reliable choice.
An authentic aesthetic style ideal for traditional homes
Incredibly long lifespan of up to 70 years
Resistant to rot, fire, and insect damage
Slates can be layered on top one another for a textured look
High levels of insulation for year round comfort
low maintenance and long-lasting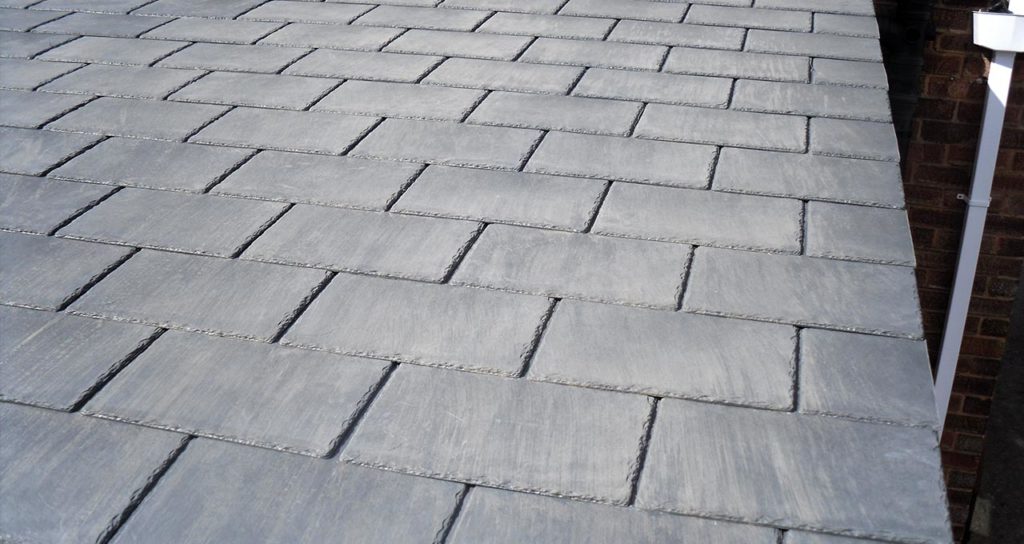 Additional factors to consider
Style Preference: Depending on the aesthetic style of your property and corresponding extension, might affect your choice of solid roof option. Tiles such as those found in Evaroofs make for an entirely flush finish that's perfect for contemporary properties, while slates are most commonly used in traditional builds.
Structure Strength: As alluded to previously, tiles are simply a lot lighter when compared to the heavy stone-like weight of conventional slates, so it's essential to double check whether your conservatory will be able to withstand the desired roof style.
Lifespan: Both styles offer decades of extended use to all homeowners opting to integrate them, with impressive weather resistance against harsh elements. While Evaroof tiles are guaranteed for a period of 40 years, slates vary wildly and so it's worth researching how much protection your investment will get you.
Attractive tiled conservatory roofs from EvaRoof
We here at Evaroof have made it our mission to only supply and install the very best lightweight tiled conservatory roofs possible, giving all homeowners absolute peace of mind when wanting to make the most of their extended space. To learn more about how our roof tiles compare to traditional slates, feel free to call us on 01291 630 063 or contact us online.
Would Highly Recommend Evaroof!
Being from a roofing/building background I was a bit dubious to go with a slate roof but it's made such a difference due to the insulation qualities. During the recent heatwave, we have been able to spend all day in the room now whereas before it would have been too hot. Excellent installation carried out by the fitting team with nothing being too much trouble, very clean workers. Would highly recommend Eva roof!
- Clyde Cartwright. Newport, Wales.
New solid tile roof in Monmouthshire
Just had a new roof put on the conservatory and the result is fantastic. What a difference - we now have a proper room which can be used all year round. Big thanks to Rich and the team who did a superb job in quick time. Would recommend them to anyone!
- Mr Dutton. Monmouthshire, Wales.
Conservatory Roof Replacement in Bath
Really pleased with our conservatory roof. Quick, efficient, helpful and friendly. Brilliant result. Transformed our conservatory and we are now in there constantly. Thank you!
- Mr Emmett. Bath, Somerset.
Cardiff Solid Tile Conservatory Roof Installation
Delighted with the work. I would like to thank you and your team for being so professional and easy to deal with . More than happy to recommend you anyway I can.
- Ms Walsh. Cardiff, Wales.
Serving South Wales & the South West
We can install any one of our Evaroof products anywhere in and around South Wales and the South West in areas such as Swansea, Swindon, Hereford and Devon. Being the only dedicated solid roof company operating in these areas, we'll deliver a prompt and first-class service every time.
Visit our Monmouthshire Showroom
We encourage anybody that requires either more information or some creative inspiration to visit our local showroom situated in the heart of Monmouthshire, Caldicot. Whether you'd like to gain a better insight into how the Evaroof can keep you comfortable like no other tiled roof can or wish to see colour options up close, feel free to visit and we'll be happy to help.
All work completed with a building control certificate and to the highest standard
We have 3 dedicated expert fitting teams serving South Wales and the South West
Evaroof solves the heat-loss & overheating issues that conservatory owners experience
We provide our quote and design service completely free with no strings attached
We use the latest high quality materials to ensure both performance and style
We have a 10 year guarantee as standard, with A 60 year life expectancy for tiles